Julian Lennon Day Competition


April 8th 1999




Here's a selection of some of the best entries for the 1999 Julian Lennon Day competition!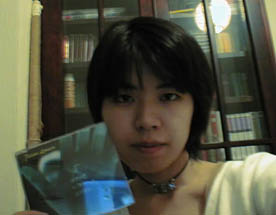 THE WINNER!!!....Hiromi Goto from Japan!

On Julian Lennon Day, I'd go to a park to see cherry blossom. Beginning of April is the best for seeing flowers in Japan. Especially cherry blossom. And listen to Photograph Smile under a cherry tree with some wine and foods.





Julian Lennon Day By Barb.

I don't think my celebration was wacky, but we enjoyed the day! I homeschool my 6 1/2 yr. old daughter, so we celebrated in school with Julian language arts and maths. We practiced double digit subtraction with word problems like: If we met Jules and I gave him 73 kisses and you gave him 52, how many more kisses did he get from me?! We changed proper nouns to pronouns in sentances like Kalei and I love Jules! We called our local radio station and told them about Julian Lennon Day. Then we had a guitar shaped cake in celebration! My daughter says she is in love with his voice, but she doesn' t think he is good looking. Maybe she will develop more taste with age! I guess that's all we did to celebrate, other than playing Photograph Smile all day and talking about how great Jules is! It was a great day!





Julian Lennon Day by Lonnie

I will be spending my day with my daughters and wife. That's a special time for me (as it is everyday that I celebrate being with my family). Especially true on Jule's Bday; you see, my youngest daughter is named after Julian: Julia. Well we were planning to name our next child Julian, but as faith had it. My wife and I met on March 25, 1985 at a Julian Lennon concert in Houston TX. Seven years later we married and the rest is history. Thx Julian.





Time To Do Something by Jasmine

Today is Julian's birthday, and I hope he's having a great one. Unfortunately, it's not such a great day, or a great time in general, for thousands of refugees in Kosovo. In fact, it's such a horrible thing going on there, it's nothing less genocide. People are being murdered, they lose their homes, and forced to be seperated from their families. I don't believe that anyone in their right minds, especially fans of Julian Lennon and John Lennon, who believe in peace, love and human rights, and sit aside, watch all of this happening and do nothing about it. This is why I've decided, on this day, to spend my time and energy not on baking a cake (that Jules won't eat anyway), or writing fan mail, but on collecting money, clothes, blanket's and anything that can be helpful, and get all my friends (and as many more people as I can) to do the same, so it can be shipped over to the refugees and ease their suffering, if only by little. If Julian is like he seems to be, a caring and compassionate human being who cares about the world we all live in, I believe that he will appreciate this humble gift from me to him and to the people who really need it. How is it a gift for him? Well, I think that the values I've had since I was very little have something to do with John Lennon, he's certainly been an insperation to me, and so is Julian now. So you may say that some of my motivation comes from him, and I'm sure that he'll support this and be proud to be a part of this (in a way).
I'd like to take this opportunity to ask people, Julian's fans, and anyone else, to join me, and do whatever they feel is right for them- just so that SOMETHING will get done about this horrible situation. This is for you, Julian - Happy Birthday.