Julian News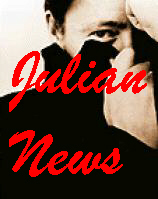 It's been a long time since I last updated the news section. As Jules OK!! is based in the UK most of the news will be UK only. Every now and then I will do a short roundup of Julian news in general so I don't leave any interesting news pieces out.
Julian has now finished the, excellent, U.S tour and may tour Europe in the new year. Julian has had many t.v appearences in the last few months in the U.S, recently he appeared on the much delayed 20/20 programme, worth the wait from what I hear. Julian will no longer be answering questions about his father in interviews.
Jules OK!! would just like to wish everyone a very Merry Christmas and a super New Year
Dates for Julian's US tour are now up at the Official Site
Julian is going down really well in the USA and he seem's to be enjoying it. Photograph Smile has had a really good response from the fans and should do well. As I said before, for dates of his next promotional show's visit Julian's official web site (link is below).




Julian is now in the US. He will be touring very soon. To find out dates of shows etc visit Julian's Official Site




Julain has just finished a brilliant promotional tour in Australia. He will be touring America the beginning of this year (1999).



I'm afriad there's not much news to tell at the moment. What I do know is that Julian is doing a promotional tour in Japan at the moment which I hope is going well.

Not The Jack Docherty Show on Channel 5(UK)..
(August 26th)
Presented by Melinda Messenger

Julian recived a wonderful reception from the audience, he appeared to be quite knocked out and bemused by it. During the interview the subject of Yoko and the sale of his fathers work was raised and it was plain to see how emotionally Julian has been effected by it. With his arm held aloft by fellow guest Leslie Phillips he allowed himself, somewhat shyly to bask in the adoration of his fans. Unfortunately a live version of 'I Don't Wanna Know' was not on the cards but a good mimed rendition complete with a kiss to the camera gave the devoted followers even more reason to scream and shout. Well done Jules!!!!


'Exclusive' Interview on Channel 5 (UK)..
(August 23rd)
Nice to see Julian on top form promoting his latest single 'I Don't Wanna Know'. Skillfully aided by Sara Cox and Mark Eccleston(who had obviously done their homework) the interview rolled along at a lively pace with excerpts from The Butlers video, a tongue in cheek backwards look at the careers of a well known band called The Beatles. Julian appeared comfortable and relaxed if not a little tired. Perhaps forming his own record company (Music From Another Room) has put him on the right path to the stardom he rightfully deserves as the album Photograph Smile, when given the right amount of air play and recognition, will one day be regarded as a classic! (well my Mum loves it anyway!!) :)

Lunch In The Sun on ITV (UK TV Channel)..
(August 18th)
Filmed at an exclusive villa in Marbella.

Julian Lennon appeared as a guest today on the 'Lunch In The Sun' programme on ITV performing his new, soon to be released single 'I Don't Wanna Know'.He then cooked up one of his favourite recipies 'Steak Diane' in a mushroom, onion, herb, white wine and cream sause. It looked delicious (roll on smell-a-vision!). Julian's quiet yet humorous personality seemed to go down well with the ladies.
'Nice to see you looking happy, tanned and fit Jules! All the best for the new single!'
News update straight from 'Tower Records' in London yesterday:

New single now to be released on MONDAY 24TH AUGUST in the UK! To anyone in and around the 'city' this week you may see Mr Lennon riding around on various London buses! COOL!!


Catch Julian on TV...
(August14th)
Julian will be appearing on the Jack Dockerty Show in the UK (channel 5) on the 26th of August.


Julian to release new single...
(August 2nd)
Julian is to release a new single called 'I Don't Wanna Know' (song no 5 from Photograph Smile). It will be released as two cd's, both containing video's. It is out in the UK on the 17th of August(24th in Europe).

Julian tops in Liverpool..
(July)
Reported by Liam Wilkinson

They are praising Julian Lennon in Liverpool, the Magical Mystery Tour guide thought that 'Photograph Smile' was the better of the Lennon son's albums. The Sean Lennon one sounds naff to be blunt!


Julian appears late on breakfast show!(July 3rd)
Julian entered the UK breakfast show 'This Morning' late possibly due to disscusions over his video 'Day After Day'. The show had run into money difficulties and could only afford to show 60 seconds of his video. As they had already shown 40 seconds they were having trouble showing the rest. The interview was made longer but did not give Julian much time to advertise his new album. The presenters even had to ask Julian what it was called and he had to correct them when they said he had only done 3 albums when infact it was five. The full interview will appear on this site soon....


Julian: Also speaking out (article taken from The Beatles Book) June 98
Sean hasn't been the only second generation Lennon in the news recently. His older half-brother Julian coincidentally has a new album, Photograph Smile, released on the same day as Sean's Into The Sun. He told Dylan Jones of the Sunday Times about the problems he'd had to overcome in recent times: "I went mad for a couple of years, I admit. It was my lifestyle. There were too many people around me who took advantage of me, who used and abused me, for years. I took care of everyone's bills, paid for meals, drink, everything. I attracted the wrong kind of people, hangers-on, and I did that a lot. Now I feel I'm wearing the cap of responsibility. I still drink and I feel that I am able to control that, because a lot of people lose it with drugs and drink. I think I'd be in a worse place if I'd had more success."

More news stories to come!!.....